OUR SERVICES
MicroSilicon's real-time IoT sensors for the Oil & Gas Industry provide a unique platform technology to address flow assurance problems from reservoir to refinery and solve the "cholesterol" problems of oil production. The Quantum RF Analyzer is the world's first in-field, harsh environment, real-time Asphaltene analyzer for permanent online monitoring and provides automated asphaltene measurements at line pressure and temperature. It is connected to the Cloud for data processing and with analytics to provide key insights into production systems including fluid typing and prediction of asphaltene deposition.
The system has been validated with multiple NOCs, IOCs and Independents both onshore and offshore.
Dimensions: 24 x 27 x 55 inch
Weight: 400 lbs.
Electrical: 24 VDC, 50/240 watts (cont./ peak)
Communications: Ethernet/Wi-Fi/Cellular
Pressure rating: 2,250 psi
Temperature rating: 125 C
Classification: Class 1 Division 2 GRP D T4
Asphaltene: 0.05% resolution
Temperature range: 0-65 C
Pressure range: 0-2250 psi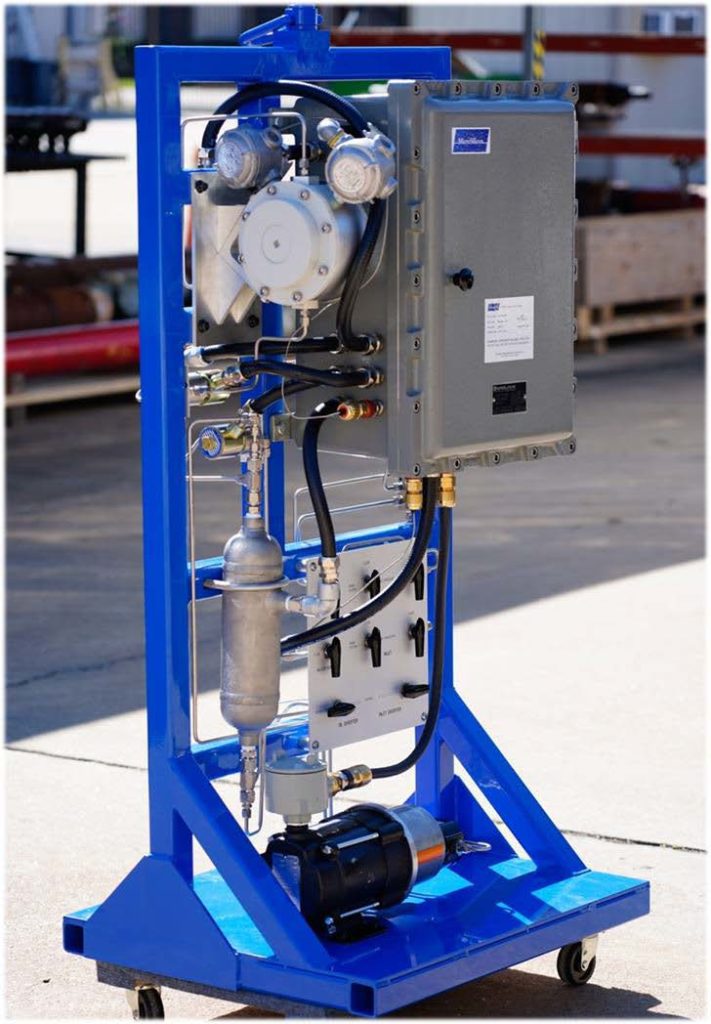 for industrial process monitoring
Attain unprecedented levels of operational efficiency, productivity, and competitive advantage.
Discover the full power of online chemical sensing
Our first product is an Asphaltene & Corrosion Analyzer that can monitor and analyze the chemical contents of hydrocarbon fluids in real-time.
PROBLEM
Oil & gas operators spend billions each year mitigating asphaltene buildup
Asphaltene accumulation and corrosion plugs the wellbore tubing and valves. It can also obstruct separators and pipelines. For years the industry has implemented measures that are not cost effective due to the inability to measure asphaltene levels real-time.
SOLUTION
Sensor installed in flowlines from reservoir to refinery
Our Electron Paramagnetic Resonance (EPR) on-chip sensor can be used for permanent online monitoring and prediction of asphaltenes deposition and corrosion onset. Data processing, analytics and AI software connect with the sensor and provide key insights to production systems. It replaces large and expensive equipment traditionally used to monitor buildup or damage.